Resume

A passionate storyteller, driven to simplify complex ideas.
Entrepreneurial marketing executive with over 10 years experience developing and executing a wide range of B2B and B2C marketing programs including go-to-market sales strategies, product marketing, branding, content marketing, and event marketing. Strategic problem-solver, excellent interpersonal skills, and all around team player. Unique balance of analytic and creative talents with an intense motivation to achieve results.
SPECIALTIES
Conversion Marketing:

Sales Enablement, Product Development, Digital Media Strategy, Lead Generation, Demand Generation, Customer Acquisition, Customer Retention

Storytelling:

Content Marketing, Product Marketing, PR, Social Media, Email Marketing

Branding:

Art Direction, Design, Sales & Marketing Collateral Production, Event Marketing

Marketing Research:

Competitive Analysis, Market Trend Identification, Customer Profiling, Audience Segmentation, Customer Surveys
EXPERIENCE
ACHIEVEMENTS
Served as the first VP of Marketing for both Glasshouse and AdsNative during rapid growth start-up business phases that included an $8.5M Series A fundraising round at AdsNative.

Attained an average open rate of 48.2% for Glasshouse email marketing campaigns, which is nearly 3x higher than the industry benchmark of 17.2%.

Contributed to 10x in revenue growth for AdsNative from $275K in 2014 to $2.6M in 2015.

Acquired industry recognition for the AdsNative brand by winning the "TiE50 Top Start-Up 2015" award and being named as a finalist in the Digiday Signal Awards and the ad:tech SF Start-up Spotlight Series.
Developed the inaugural VisionSF content marketing program for the San Francisco Chronicle.

Secured thought leadership publication and press hits with Forbes, Yahoo Finance, Dwell, VentureBeat, TechCrunch, Quartz, and more.
WORK HISTORY
Glasshouse | VP of Marketing | 05.16 – Present
Define vision and go-to-market strategy for the Glasshouse brand in B2C and B2B markets.

Manage and develop content, positioning, and messaging for external creative, PR, content marketing, and social media agencies.

Responsible for marketing roadmap, business development, product development, customer acquisition, and customer retention.

Identify and manage event marketing opportunities to drive awareness around both B2C and B2B engagement efforts.

Report on industry trends, consumer insights, and relevant research related to Glasshouse's products and competitors.
AdsNative (now Polymorph) | VP of Marketing | 09.14 – 03.16
Defined and nurtured go-to-market sales strategy, while delivering best in class marketing materials including website design and communication, sales decks, product one-sheets, case studies, research projects, explainer videos, and infographics.

Oversaw PR and communications efforts to increase brand awareness through content marketing, paid media, and social media.

Identified and managed event marketing opportunities for targeted networking such as the Mobile World Congress, ad:tech, and Digiday conferences.

Responsible for wholistic marketing plan, while managing a $250,000 budget, a team of five direct reports, and an external SEO agency.
Hearst: San Francisco Chronicle + SFGate | Director of Innovation Strategy | 11.13 – 09.14
Collaborated across functional teams to launch new programs and initiatives for the San Francisco Chronicle portfolio including the SFGate branding and website redesign project, native ad product integration, and the creation of an internal marketing agency.

Created and evolved sales strategy and deliverables for all go-to-market materials/collateral under San Francisco Chronicle brand.

Built strategic content marketing programs like the "VisionSF" and "Love Local" for brand advertisers and consulted on high level client meetings for business development.

Led and administered the Chron U sales training program on Mindflash LMS.

Managed a $200,000 marketing budget and two direct reports.
Say Media, Inc  | 11.07 – 10.13
Sr. Manager, Marketing Services | 02.13 – 10.13
Oversaw roadmap strategy and deliverables for all go-to-market materials/collateral under Say Media brand umbrella and portfolio.

Worked across organization to seamlessly roll out product innovations and offering developments, from material creation to script writing to seller education and training.

Served as Headmaster of the University of Say sales training program.

Managed and developed Marketing Services Coordinator.
Manager, Product Marketing | 02.11 – 01.13
Executed the design and ideological positioning of two complete re-branding projects.

Designed dynamic, data-driven product marketing materials for a multi-national sales team.

Developed unique brand positioning for over 40 digital publishers in the Style, Tech, and Living verticals promoting properties such as xoJane, ReadWrite, and Remodelista.

Managed and developed Product Marketing Coordinator.
Sr. Sales Solutions Specialist | 10.09 – 01.11
Strategized across departments to solve marketing challenges for large budget campaigns and major brand advertisers.

Trained and mentored a global team of Sales Solutions Specialists.

Evolved sales collateral through design and strategy enhancements, while aligning materials with company objectives.
Sales Associate | VideoEgg, Inc. (now Say Media, Inc.) | 11.07 – 09.09
Sold and managed strategic digital advertising campaigns – catering to detailed flighting schedules and specific KPIs (Key Performance Indicators).
Robert Half International | Lead Sales Support | 07.06 – 10.07
Assisted management and 11 sales executives with candidate on-boarding, client communication, and marketing needs.
QUALIFICATIONS
SKILLS
Adobe: Photoshop, InDesign, Illustrator
Microsoft Office: Word, Powerpoint, Excel
iWork: Keynote, Pages, Numbers
Google Analytics, WordPress, comScore, Zoho, Salesforce, Pardot, Mailchimp, Hootsuite, SurveyMonkey, LeadPages, InVision
EDUCATION
University of Dayton | B.A., English, Photography | 2005
Leadpages | Conversion Marketing Certification | 2016
Cornell Johnson Graduate School of Management | Marketing Strategy Certification | 2017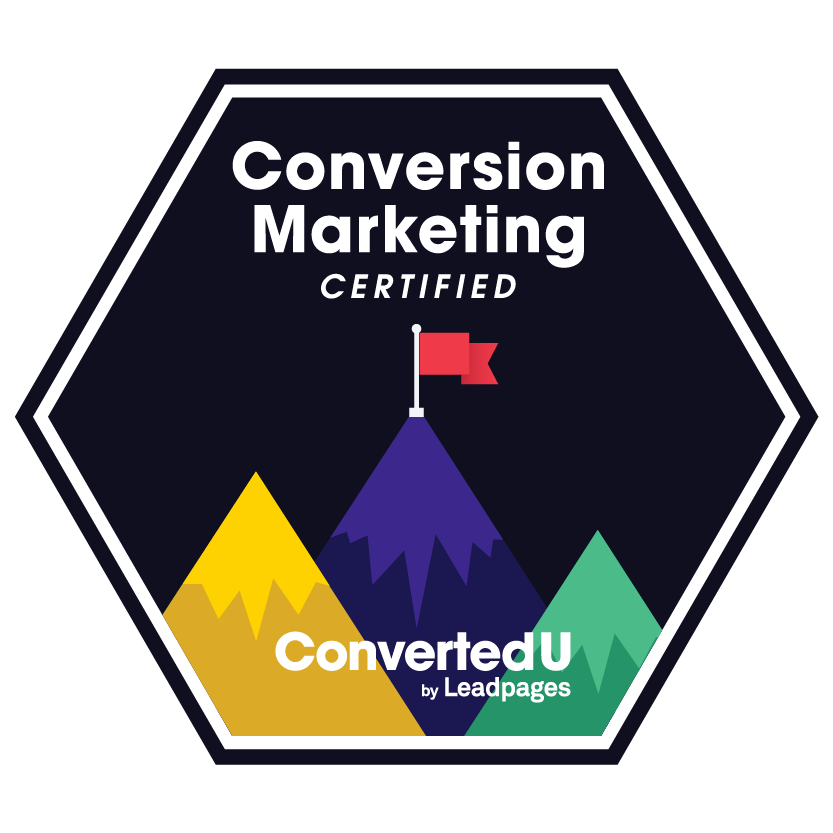 Leadpages Certified professionals are uniquely equipped and qualified to achieve greater results across the entire conversion marketing lifecycle. With their knowledge, skills and expertise in conversion marketing, they can generate more traffic, visitors, leads, customers and brand promoters with utmost precision and efficiency saving you time and money. They will help you take the guesswork out of what works in conversion marketing to propel your business forward.